A Few Words About Us
Taking care of your roofing needs since 1986
At Escobar Roofing, Inc., we realize that the process of choosing a reliable Roofing Company that will provide you with security and peace of mind for many years to come can become a challenge in today's market; With this in mind, we would like to point out some of the benefits that will clearly set Escobar Roofing ahead of the competition.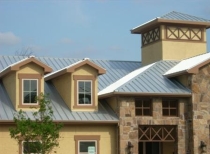 Escobar Roofing, Inc. has been a premier Roofing Contractor in North Texas since 1986. We have an extensive list of high profile jobs and thousands of satisfied customers. All stringent requirements have been meet to acquire respect from the manufactures in this industry. We install all materials to the manufacturer specifications and meet or exceed all industry standards.

Escobar Roofing, Inc., is a proud member of the Better Business Bureau, the Home Builders Association of Greater Dallas, the National Association of Roofing Contractors, the North Texas Roofing Contractors Association, the Tile Roofing Institute, the Apartment Association of Greater Dallas, Green Built North Texas, the Texas Builder Marketing Group, and other reputable organizations.

At Escobar Roofing we dedicate ourselves towards providing you with the highest quality of workmanship and materials at a reasonable and competitive price. If you plan to get estimates from several companies, make sure all estimates include the same scope of work, the same materials, and the same warranties. Remember, when quality counts, you can count on Escobar Roofing.

We at Escobar Roofing have worked very hard through the years to earn the excellent reputation we have, and will continue to work hard in order to earn our esteemed clients' business. We are confident you will be completely satisfied with your decision to choose Escobar Roofing.

What We Offer
Exceptional quality - reasonable rates
When you hire Escobar Roofing, Inc., you can count on us to provide you with the personal attention you deserve. We offer a wide variety of services at reasonable rates so you can have an exceptional, quality roof with your pockets still in tact.
All Residential & Commercial Roofing
Multi-Family New Construction Projects
Redecks/Reroofs/Repairs
All Types of Built-up
Modified Bitumen Flat Roofs
All Types of Asphalt Shingles
Standing Seam/Metal Roofs/Tile Roofs
Sheet Metal Fabrication
Gutters & Downspouts
Insurance Claims
Want the right roof? Want great prices with quality workmanship? Donít wait, call today!
Phone: 877.357.8537 or 214.357.8111
Fax: 214.879.9888
E-mail: info@escobarroofing.com